[Go to 2015 event]
---
Matematica e Nodi (Celebration Of Mind 2016)
October 24 - Brescia
This year the emphasis will be on knots; moreover: puzzles, games, illusions, tricks, art, fractals... anything funny goes!
Please address any complaint/question/remark to the email address paolini@dmf.unicatt.it.
---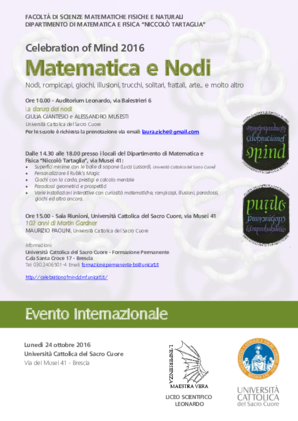 Program
(in italian only)
Mattina
ore 10.00 presso l'Auditorium di via Balestrieri 6, (Liceo Leonardo)
La danza dei nodi, Giulia Giantesio e Alessandro Musesti
Pomeriggio
Dalle 14.30 alle 18.00 presso i locali del Dipartimento di Matematica e Fisica Niccolò Tartaglia, via Musei 41:


Superfici minime con le bolle di sapone (Luca Lussardi)
Giochi con la corda, prestigi e calcolo mentale
Paradossi geometrici e prospettici
Varie installazioni interattive con curiosità matematiche, rompicapi, illusioni, paradossi, giochi ed altro ancora.

Ore 15.00: Breve introduzione in Sala Riunioni di via Musei 41: 102 anni di Martin Gardner, Maurizio Paolini
a seguire: gara Caccia al nodo (partecipazione libera con premio finale).
Partecipazione
La partecipazione agli eventi è libera, ma per l'evento della mattina è gradita l'iscrizione tramite il Servizio Formazione Permanente: tel. 0302406501-4 Email: form.permanente-bs@unicatt.it con l'indicazione del numero di partecipanti.
Link esterni correlati all'evento
The nature of things Ottimo documentario su youtube con interviste a Martin Gardner. Compaiono anche John Conway, Harold Coxeter, Scott Kim, Doris Schattschneider, Persi Diaconis.
Conferenza di Scott Kim (youtube video).
---
Contact: paolini@dmf.unicatt.it
---
| | |
| --- | --- |
| | Can the Gordian knot (by Wolfgang Haken) be unknotted? |
---